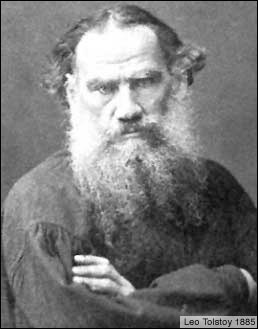 Russian 199
Death and the Meaning of Life: The Death of Ivan Ilyich
3:00-4:50 Tuesday, Thursday, 100 Gregory Hall
Professor Harriet Murav
hlmurav@illinois.edu
Office: 3148 FLB, M 2-4, and by appt.
"The Death of Ivan Ilyich transports the reader to 19th-century Russia, a world that may seem remote to 21st-century Americans. Certainly Tolstoy grounds his novella in a particular social, political, and religious context. But the universal questions transcend time and place: What provides true happiness? What does it mean to live a good life? Does God exist? If so, why would He allow suffering? What is one's responsibility to other human beings?
Perhaps most of all, Ivan's "commonplace" and "horrifying" life challenges us to consider our mortality, for whether by disease, disaster, or an accidental fall, we all—like him—will die. Tolstoy doesn't prescribe an answer for Ivan, or for us. But he does offer a work of art that he intended as "a means of communion among people." In this way, his novella can illuminate even the darkest human truths."
"The awful, terrible act of his dying was, he could see, reduced by those around him to the level of a casual, unpleasant, almost indecorous incident…and this was done by that very decorum which he had served his whole life long."
–from The Death of Ivan Ilyich
Full text available:
Death and the Meaning of Life. The Death of Ivan Ilyich
Final group project


Student must join a group and participate in on-line discussions with their group to develop their projects. You work collaboratively with others on the project: ending isolation is an important theme in Tolstoy. Project development participation is part of the project grade. Consultation with the instructor is required. Each project must start with a passage from DII. State how the project relates to this particular passage. The questions given for each group below are prompts that help your group produce a coherent final narrative. Multimedia (images and sound) are an important dimension of this project. The final product will be in a format that can be uploaded onto the class website: use YouTube, a blog, a website, or powerpoint, for example. Each group may have up to three teams of 5 participants each.
Project grades will be based on:


a) Research 20% Minimum: 2 articles.
b) Analysis of the novel 20%
c) Effectiveness of exercise performed by group 20%
d) Design and coherence of final project 20%
e) Participation in online discussion 20%


Topics:
1. DEBATERS. Write a debate between Tolstoy and Susan Sontag, using her book Illness as Metaphor ; and, AIDS and its metaphors (on Undergrad reserve). What is Tolstoy's attitude toward medicine and the medical profession? What is Tolstoy's definition of health? How do the mind and body relate, according to Tolstoy? What purpose does suffering serve? How does Sontag reframe these questions? Archive your debate.
2. GAMESTERS. Research the card game that Ivan Ilyich and his friends play. Describe a game that you and your friends play. How many hours per week do you spend on the game, what does it take you away from, what do you get out of it, how is it a distraction from what is important in life, according to Tolstoy? Use the novel to draw a conclusion about your game playing. What kind of comparison can you make? Archive your investigation.
3. SIMPLIFIERS. Ivan Ilyich's illness forces him to divest his interest in his career, his card-playing, his social ambitions, and his fashionable purchases. His illness and death compel him to "simplify" his life. Research Tolstoy's efforts to simplify his life, including his vegetarianism. Identify any "simplifying" trends in our own contemporary culture. Devise and carry out one to two exercises in which you simplify your life, archive them, and interview each other about the experience. Archive your investigation.
4. REVERSERS. Ivan Ilyich finds himself on the other side of the table, so to speak, when the celebrated doctor treats him just as he had treated men on trial. What is Tolstoy's point in making this comparison? Research the new jury courts in Russia and Tolstoy's attitude toward them. Devise and carry out one to two role reversal exercises, and interview each other about the experience. Archive your investigation.
5. HOME DECORATORS. Ivan Ilyich is good at decorating his apartment and finds inexpensive antiques to give his home a special, fashionable appearance. What is Tolstoy's point about Ivan Ilyich's interest and skill as a home decorator? Research Russian interiors in Tolstoy's time. Pick an object that you own that you think of as fashionable, in other words, what everyone has, describe where, when, and how you acquired it, your attachment to it, its status as a desirable, necessary, fashionable object (one to two objects per group). Interview each other about your objects. Archive the project.
6. FILM BUFFS. Ikiru and Philadelphia respond differently to the meaning of life, illness and dying. How would you compare the novel and the two films? Explore other films that treat these questions, and create a brief film treatment of your own, based on The Death of Ivan Ilyich. Archive the results.
7. CHURCH PEOPLE. Tolstoy was a deeply religious thinker, yet he was excommunicated from the Russian Orthodox Church. Ivan Ilyich's wife urges him to take final communion, but the experience fails to have meaning for him. What are the religious issues in Tolstoy's novel? Research the Russian Orthodox Church and its dissident groups in Tolstoy's time, and explore Tolstoy's religious writing in his Confession. Archive your investigation.
8. DONORS. Gerasim, the peasant boy in The Death of Ivan Ilyich, cares for the sick man without any sign of distaste. He "donates" his care with tact and kindness. Although Gerasim is Russian, as is Ivan Ilyich, Gerasim seems to come from a different culture. Research who peasants were in Tolstoy's Russia, including details about their dress, language, religion, diet, and education. Compare the role of Gerasim to a "donor figure" in a film, tv show, or literary work from American culture. Finally, the group is to donate some service to the class or community. Archive your project.
9. MARRIAGE COUNSELORS. The relation between husband and wife in The Death of Ivan Ilyich leaves room for improvement. What is the source of the gap between them? Research Tolstoy's personal life and his writings having to do with marriage in the 1880s. Based on your research and your analysis of the novel, play Dr. Phil to Praskovya Fyodorovna and Ivan Ilyich. Archive your project.
10. TOLSTOY GROUPIES. Tolstoy's reputation is based not only on his great literary works, but also on his actions as a public figure (his protests against capital punishment, for example, and his pacifism). Research Tolstoy's activities as a public figure and his influence on others beyond the boundaries of Russia and beyond his lifetime. How would Tolstoy respond to global warming, the war on terror, and violence in American public life? Archive your project.
Required Reading
L. N. Tolstoy, The Death of Ivan Ilyich (Instructor will provide)

Optional Reading
----- A Confession. Part IV. http://flag.blackened.net/daver/anarchism/tolstoy/conf4.html
Part XVI http://flag.blackened.net/daver/anarchism/tolstoy/conf16.html
Susan Sontag, Illness as Metaphor (book on reserve in undergrad library)


Slavic Reference Service
Contact Info
International &
Area Studies Library
321 Main Library
1408 W. Gregory Dr.
Urbana, IL 61801
217-333-1349
Send Email
International and Area Studies Library
Contact Info
Room 321 Main Library
Phone: (217) 333-1501
Send Email